Inspiration for a Harris family vacation can come from anywhere. And by "anywhere" I usually mean The Bachelor or Bachelorette. But for this year's big trip, Master of None Season 2 got me looking at Italy and then Call Me By Your Name sealed the deal. That and Sally loves pasta and I love wine (and pasta) so it pretty much a no-brainer. It was time to start planning! But wait-- just as I started planning the Italy trip for May (before the summer crowds) a close friend of ours decided to get married in Portugal in July! Decisions, decisions. I guess we'll just have to do... BOTH! With a little schedule shuffling, we found a way to first go to to Italy and then end our trip at the wedding in Portugal! But first thing's first... Italia!
Living in the city, I'm always much more focused on visiting the countryside whenever we travel. But since it was cheapest to fly to Rome directly, I decided we would head there to start our trip. We'd then drive to Tuscany where we would spend 5 days at 2 different villas (I couldn't decide which to book!), and finally to Florence for a quick stay before flying to Lisbon.
Rome
In case you couldn't tell, I'm a big planner. But once in a while, even I make a mistake (don't tell Alan). The day before we left for our trip, I realized I had messed up the dates and rather than having 1.5 days in Rome, we only had half a day. So we had to make the most of it!
Our flight to Rome was a redeye which was great because it allowed Sally to sleep on the flight. We arrived and got to our Rome Airbnb around lunchtime and did a little resting at the apartment before heading out to explore. Our Airbnb was comfortable, located on a charming street, and was an easy walk to the city's tourist attractions (for both Rome and Florence I made sure to book Airbnbs in walking distance from the main tourists spots since we had such limited time in each city). Speaking of having a short time, we decided we had to make it to the Colosseum. Duh.
The walk was hot, but nothing buying sun hats on the street couldn't fix (when in Rome!). When we got to the Colosseum, we were quickly accosted by guys trying sell us a tour. We don't always bite, but I am glad we did this time! Being on a tour, we didn't need to wait in the ticket line, we got someone to tell us about the history, and the best part was that we got access to the floor, which the regular tickets do not offer. Alan and I each only heard about 25% of the interesting things the guide was saying though because the bulk of the tour was spent taking turns chasing after Sally (toddlers, am I right?). We missed a lot, but still well worth it.
From the Colosseum we walked to the Trevi Fountain, the Pantheon, and even stopped for dinner at a sweet restaurant on a quiet side street called La Vecchia Locanda. Not bad for a half day! Sally even managed to squeeze in dancing to a street performer playing the cello. It was all a very charming first night in Italy!
Bagni San Filippo
The next morning we headed to Tuscany. I was actually very excited about the drive because I found a perfect stop halfway to our destination where we could do a small hike to some natural hot springs. There are actually a number of popular hot springs in the area (Bagno Vignoni, Terme di Petriolo, and Saturnia) but after doing some research I decided on Bagni San Filippo based on the fact that it was on our route and involved a short walk through the woods. The town is small and the trail was easy to find. We were able to park without much trouble and even though the walk to the spring itself was short, you still feel like you're on a little hike. Fairly quickly you come across some warm pools, but if you keep walking further down the pools of natural water keep getting better and better. We didn't walk the whole way, so who knows what else is down there, but we stopped by the huge Fosso Bianco (a large white rock that has water coming down off of it into little waterfalls that fall into the pools). This spring was a PERFECT and unique stop with a toddler. A short walk and safe, warm, shallow pools to splash in!
Tuscany! We made it! When I was researching the trip, it turns out that there are about one million beautiful farmhouses to stay in that could easily each fulfill your Under the Tuscan Sun dreams. So many that I just couldn't decide between them, so I booked two and we stayed a few nights in each. First up is Podere San Lorenzo.
The grounds at Podere San Lorenzo are beautiful complete with a grove of olive trees next to a stunning pool. The pool is a chemical free natural pool. No idea how that actually works, but it's basically a perfectly normal pool to swim in (no weird algae or animals) that's surrounded by lovely plants. On the far end of the pool, separated by a rope, are tons of gorgeous lily pads. It also has a fairly big shallow zone that only has about a foot of water, which is an easy place for toddlers to stand and splash around. The rooms were simple. Ours had a little kitchen, which was nice to store milk, wine, and fruit during our stay. Meals were served in a small 12th century chapel that's part of the farmhouse itself. They offer cooking classes there, which we figured would be too hard to do while chasing Sally around, so we skipped it. The first night we ate there they served delicious ravioli that was made earlier that day in the cooking class! I'm sure the rest of the food was great too, but honestly, it all tasted good in Italy so I can't remember too many other specifics. The wine was plentiful (I remember that part!). Overall, this place had a smaller, more casual vibe than our next villa. The hosts were nice, but not overly warm. There were other kids there so it wasn't that the place wasn't kid-friendly, but at times we felt a little like Sally was in the way. Perhaps she was (she is like a bull in a china shop these days), but we found that we met warmer folks elsewhere in Italy.
Volterra and Sienna
Anywho, Podere San Lorenzo is in a great location to explore the various walled cities of Tuscany. So our first day there we decided to take a day trip to Volterra and Siena. For you Twilight nerds out there, you may recall Volterra is the city where the Volturi (ancient coven of vampires) reside and our favorite vampire clan head to in New Moon. I was ready to geek out, but it turns out the shots of Volterra in the movie were actually filmed in Montepulciano (wah-wah). Regardless, Volterra was very close to where we were staying and is a great example of a Tuscan walled city. Lots of windy little streets to get lost in, Roman amphitheater ruins, and even a little playground we found outside of the city walls for Sally to blow off some of that toddler energy.
From there we toured another great walled city about an hour away called Siena. Siena was a great city to wander around. The main piazza is huge and twice a year there is a horse race that happens there called the Palio (on July 2nd and August 16th). Ten horses tear around the piazza three times with bareback riders. Sounds festive, but unfortunately, we had missed it by a few days. Sally is not the easiest to take into old churches and other quiet places so we mainly strolled around, ate some food, and got gelato! BUT, the best part of Siena was that it was where we discovered our most favorite souvenir ever -- a plastic toy camera that had slides of the major sites in the city, like a 2-D Viewmaster. It turns out that other cities in Italy also have these, so we started collecting them for Sally. We ended up collecting 3 of them in all (Siena, Pisa, and Florence).
Now, can we talk sunflowers?? So, in Tuscany, sunflower fields are all over. They are magical and many go on as far as the eye can see. Most of the time we would drive past them before we could decide to stop or not. We did, however, end up finally making a point of stopping at one for a photo shoot that was conveniently located next to a cute cafe (on SR68 between Volterra and Colle di Val d'Elsa (close to Colle di Val d'Elsa), on the right side of the road). Ahh, there's nothing like a cold Italian Pilsner next to a sunflower field! We got our obligatory sunflower shots and it was a good half way mark between our drive from Volterra to Siena!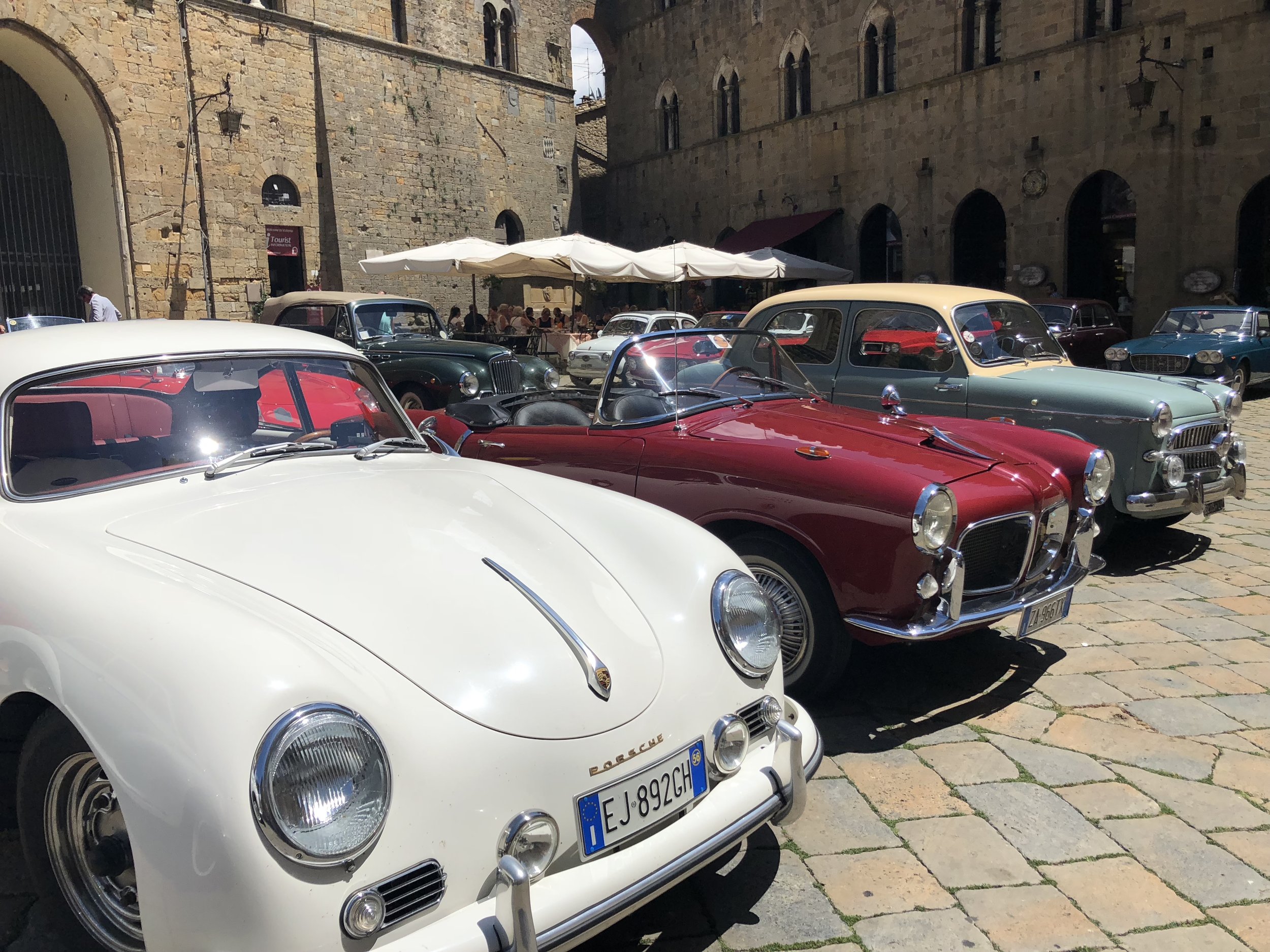 From Podere San Lorenzo, we were off to spend the next three days at another agrotourismo, Mormoraia. Geez, this place was nice! It was pricier than our previous spot, but also more luxurious. It has a bit more of a hotel feel (folks bringing you drinks by the pool) and was just incredibly comfortable. Before it was bought by a family and turned into an agrotourismo in the 1990s, it had actually been a convent. Looking at the pictures of it before the restoration, it's clear the owners did an amazing job keeping many of the old details while making it still feel fresh and updated. Well done guys!
A quick tour of the highlights: Mormoraia makes its own wine and you can tour the winery and do a tasting. I loved the wine, but don't take my word for it, I love all wines! Next to the winery were some cute animals for Sally to check out: a cute donkey (and baby donkey!) and goats. The restaurant served excellent meals that came with STUNNING views of San Gimignano, a neighboring small medieval walled town on top of a hill. Lastly, and perhaps most importantly, the pool, which has the same amazing view of San Gimignano! Speaking of pools, one of my favorite things about this entire trip was that we would wake up each day, go for breakfast (theirs was super good), and then take a swim in the pool before exploring and then again at the end of the day. Sally got so good at swimming!
Out of the two places we stayed in Tuscany, I found this one to be a bit more comfortable and felt like a fancier vacay. Highly recommend!
Piaggio Museum
Alan has owned a 1968 Vespa Rally 180 for the past 10 years and swears it's the best purchase he's ever made (uh, that and my engagement ring!). I will say, his scooter made quite an impression when we first started dating -- driving over the Brooklyn Bridge at night with the wind in my hair -- it was pure magic and also had the added bonus of easy parking! I tried to play it cool, as if every guy I dated in Brooklyn had a vintage Vespa, but truth be told, that orange scooter made me swoon.
Why am I telling you this? Because one day while driving on our Italy trip Alan says, "You know what I just realized, I bet there's a Vespa museum somewhere around here. If so, we should go." And sure enough, there was! And it happened to be an easy day trip from where we were staying. More accurately called the Piaggio Museum, this place has rows and rows of Vespas from over the decades (plus a Vespa helicopter, tank, a 30 foot tall giant Vespa, and plenty of sidecars). I especially thought the color palette of the early Vespas was just beautiful. The museum is not huge, but it's incredibly satisfying. A highlight for parents is that there is a whole play zone for kids! Museums are not always the easiest place to bring Sally, so having a place for her to draw, play with push toys, or stack blocks made the visit SO much easier. They even let you sit on a Vespa that has a sidecar and Italian countryside backdrop for photo ops (which we made sure to take advantage of, duh).
Pisa and Viareggio
It turns out Pisa isn't that far either, so we figured we would trot over there to get the classic leaning tower tourist shot. Shockingly, there were other tourists there also pretending to hold the tower up... like hundreds! It's pretty fun to watch people pose, I have to say. We didn't do a lot in Pisa outside of get that pic and have some incredible calzones, and then we were off to the coast because it's just right there! We didn't have time for a whole beach hang, but we went to Viareggio and walked around the promenade. The buildings themselves are beautiful, but I have to say, I was bummed it wasn't a boardwalk next to the sea. The sea was on the other side of those lovely buildings. The beaches are private, but you can pay $5 to get on the beach and then more for an umbrella and chairs. We figured we would find a restaurant on the beach so that we can look at the water, have a refreshing glass of wine, and some food. We found a restaurant that was hilariously called Ristorante Florida Viareggio. It was delicious! Restaurants with Sally can be a challenge since she likes to run free, so sitting on the beach was great. At that point the sun was going down, the beach was empty, and it was a relaxing way to wind down the day. After dinner we went down to the water and sat around in the sand to watch the sunset before heading back towards the car. I wasn't expecting to see the water when I planned this trip, but it was close enough to go for dinner/sunset, so it was an extra pleasant surprise!
Chianti
You can easily spend days on end driving around the Tuscan countryside popping in and out of wineries and doing tastings. You can less easily do this with a toddler in tow. That said, I figured I was allowed one wine tour/tasting on this trip, so I went with the Chianti wine region. It's right there and super famous (insert fava bean joke), so this seemed like a good zone to check out. Quite honestly, I'm not too discerning when it comes to wine. I love them all. We booked a tour based on a recommendation from our hotel, and headed to Castellare di Castellina, and the setting was everything I hoped for -- a beautiful old farmhouse on a hill surrounded by vineyards. Yes, it sounds like farmhouses and vineyards are a dime a dozen in Tuscany (which they are), but this did place did feel like a special spot. The tour takes you to the cellar that's filled with beautiful old barrels. There, they walk you through the winery's history (which at one point was a castle, I believe. I tend to miss some of the information on the tours following Sally around or taking her outside so she doesn't bug our tour-mates). Anywho, they tell you about how they make the wine, how they store it, the usual stuff, and then take you in for the tasting. They all tasted great to me! And the labels were all SUPER beautiful with delicate birds on them too (insert put a bird on it joke) which just makes lugging a bottle home in your suitcase that much more worth it when you proudly display it at your dinner party back home.
One thing I possibly liked more than the wine tour was the restaurant where we had lunch in the region, La Cantinetta di Rignana. I think I found it on Yelp and OMG. This place is right out of a dream. It's very tucked away and luckily there was signage to assure us we were still on the right track as we continued down a loooong and dusty road. But eventually we got there. This place was apparently an old olive mill that dates from the 10th Century (I think I got that right). The views from your table are really over the top perfection. For families with kids, they even have a proper play structure with a slide and swing! You can see it from your table, so you can be sipping your Chianti while your child is blissed out on a swing! We met another family there who lived in Australia, but was Dutch. Their daughter was the same age as Sally so the girls played by the table, which allowed us all a nice little break. The dad even mentioned that the former Queen of the Netherlands come here quite regularly. Fancy! I can't even remember what we ate, but I am positive it was delicious! Gosh, I'm sure people want to know where the good food is in Italy and this post doesn't help at all with that. All the food blurs together because it was all the best meals I've ever eaten. I don't know how many times I said that. Sorry there aren't more particulars when it comes to actual recommendations on dishes! If you are in the Chianti region, do yourself a favor, and make a point of having a meal at La Cantinetta di Rignana!
Florence
This brings us to our last stop on our Italian tour, Florence! After our day in Chianti we didn't arrive in Florence until the early evening. It gave us time to find our Airbnb, park the car, and relax a bit before heading out on a walk (like our Rome accommodations, our Airbnb was in a perfect location just a short walk from the Duomo). We wandered a bit and came across the Basilica di Santa Maria Novella as the sun was setting and my oh my, did that facade look nice. Sally was more memorized by some local kids kicking around a ball out front (desperate to join it, but ultimately too shy). We continued our walk seeing the Duomo (which is always a stunner), grabbing gelato, stumbling upon a woman doing a puppet show on the street, and finally passing a beautiful carousel that was all lit up! After a spin around on that and a lollipop, we were ready to pack it in. But man, whirlwind night in Florence, but it felt like there was a real sparkle in the air!
We were flying out the following night, so in the morning we headed to the Accademia Galleria to see the David. There was quite a long line outside but it moved fast, and if you've never seen Michelangelo's David, it's well worth your time. When I saw it when traveling after college, I started tearing up. It's just stunning. I was also really taken by Michelangelo's other statues, the Slaves. These statues are unfinished and look like the are trying to break free of the rock. It gives you a cool perspective of what his process might have looked like and how he took a huge block of marble and chiseled away at it until presto!, a dynamic human form appears! We wandered around a little longer and finally rested our barking dogs while having a cold beer before heading to the airport (and Portugal!!!). Italy, you are all that I thought you'd be! Ciao!