For years I've seen photos of the bluest lakes and most gorgeous snowcapped mountains, and inevitably, the photos are almost always of the Canadian Rockies! So it's no surprise that the Canadian Rockies have been on my bucket list for a while now, and when looking at where we wanted to go for our big family trip this year, they fit the bill perfectly! Flying with Sally on our laps (since she's under 2) is not the easiest form of travel, so we were looking for a direct flight that could take us somewhere magical within 5 hours. It turns out, it's less than a 5-hour flight to Calgary, and then an easy 1.5 hour drive to Banff National Park. Plus, if you keep driving, there are even more Canadian National Parks just a little bit further. On this week-long trip we went to Banff National Park, Jasper National Park, and Yoho National Park. Here's a rundown of where we stayed and the activities we did, and not to worry, they'll be plenty of photos along the way!
First off, here's a great kid-friendly travel tip we recently discovered – if you have to stay by the airport when you land or before flying out, you might as well stay IN the airport! When we got to Calgary, we landed around 9:00pm, so I figured if we stayed at the Marriott in the terminal we'd get a good night's sleep and jump on the road in the morning. We were able to literally push our luggage cart from baggage claim straight to our hotel room. It was the easiest experience ever! Plus we saved a day on our rental car! The hotel was new and super clean. There was even a nice, warm indoor pool that we took a dip in before checking out!
Once on the road, our first stop was to my number one favorite Canadian store, HUDSON'S BAY!!!!!!!!! I have almost everything they make in those classic stripes (it's sort of become my signature pattern over the years), so I had to see what was new. They don't ship to the U.S. from their website so there are many things that you can only get in Canada. Here's what I ended up with – matching mother/daughter down jackets, flip flops (on sale), a couple of umbrellas (in case I lost one), and a Levis denim jacket that is lined with Hudson's Bay stripes! Score!
Okay, on with the trip. We decided to drive north first and then work our way back down over the course of the week. Our first stop was Jasper, Alberta where we stayed at the Pine Bungalows for a few days. This is a great spot to stay with individual bungalows along a beautiful milk-colored river. It's a quick 5-minute drive into town where there are plenty of shops and restaurants (our favorite cafe was Coco's Cafe on the main strip). The bungalows are small, but each have a kitchen and picnic table out front. We go out to eat plenty on vacation which isn't always easy with a little one (Sally has a hard time sitting for too long), so having a kitchen allowed us to cook a few nights. And eating a big pasta dinner on a picnic table outside a log bungalow in the woods is just as pleasant as it sounds!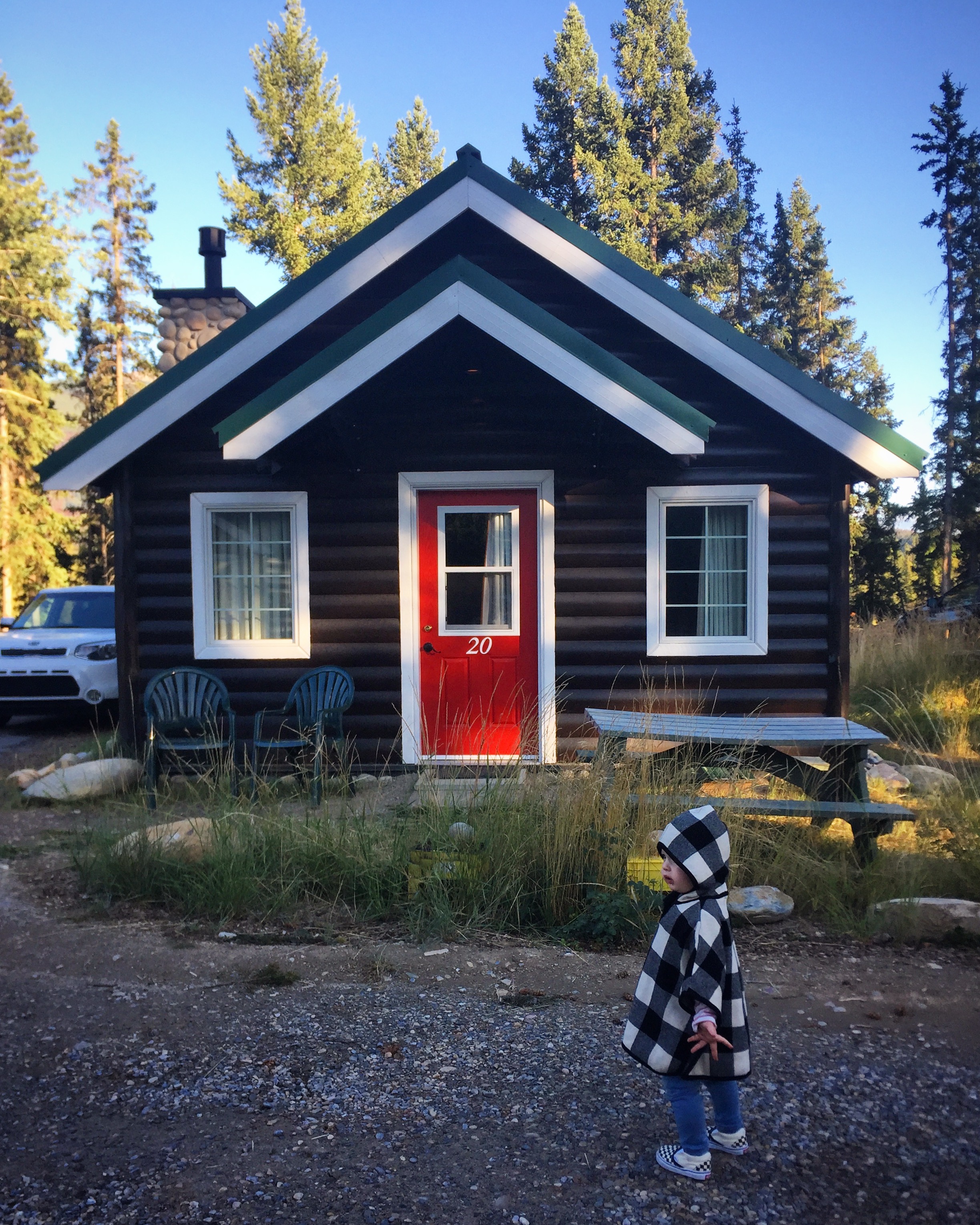 Our first day trip in Jasper National Park was a boat ride on Maligne Lake which I highly recommend! We lucked out with a beautiful day for a cruise that takes you across a lake surrounded by mountains to Spirit Island. Once on the island, you can spend a bit of time walking around on your own or as part of a short guided walk that talks about the history of the area. This is probably one of the more photographed places in the Rockies. You can't really go wrong with picture taking here! The color of the water, the surrounding mountains, and the peacefulness of the area are jaw-dropping.
Another thing we did in the Jasper area was go swimming at a hot spring. There are a number of hot springs around the Canadian Rockies, some more isolated and natural than others. We didn't have a chance to hike to any hidden hot springs, but a few have been turned into very easily accessible recreational swimming pools. They don't have quite the allure of stumbling across a hot springs in the woods, but they do have that same mineral hot water for soaking! We went to Miette Hot Springs, which was a perfect activity with Sally, who loves swimming. The drive to get there was beautiful (we pulled over a few times to explore) and the pools are right on the mountainside and surrounded by beauty. Almost like a spa, there is a little snack bar and pools of various temperatures to take a dip in (including freezing ones, which are not for the faint of heart).
After a few days in Jasper, we started heading south, first stopping off at the Columbia Icefields where we decided to take a tour on one of those massive Ice Explorers that take you up onto the glacier. Admittedly, I saw them do this on The Bachelor and figured, due to that, it was a must see. Our driver was friendly, not to mention a real character. He had just gotten back from Burning Man and definitely looked the part, complete with steampunk goggles that looked like he might have just been magically transported off the set of Mad Max. The ride up to the glacier was fun and along the way you are bombarded by glacier facts. Once there, you have about 15-minutes to poke around on the glacial ice. There is a restricted area that you need to stay in, but plenty of room to take pictures, fill up your water bottle with genuine glacier water, and slip and slide all over the ice. The tour also includes a trip to the Glacier Skywalk, which was just down the road. I'd say, if you want to see the glacier, definitely do the Ice Explorer. The skywalk provided beautiful views, but I don't know how fulfilling it would have been on its own.
Back in Banff National Park, we took a short hike to Peyto Lake. While Peyto Lake was a stunning blue, quite honestly, the hike to get there was my favorite part. The woods were gorgeous to walk through and some of the photos we took of Sally look like paintings. I should note that while we were on our trip, there were wildfires in British Columbia (which is not abnormal in the summer months), and on this day, the smoke was drifting in a bit which made the view of Peyto Lake a bit lackluster, but the hike is highly recommended!
That night we stayed at Emerald Lake Lodge in Yoho National Park. When we travel we tend to mostly stay in cheaper hotels, cabins, and motels. But we also like to splurge now and again. The Emerald Lake Lodge was where we decided to splurge for a night by getting a room right on an insane lake complete with a balcony overlooking the emerald green water. This place is quite special and seems to book up quickly, so if you decide to spring for it, plan ahead. We booked it for one night, but it was well worth it! As I mentioned, this time of year there are sometimes wildfires that obscure the views, and the second half of our trip we got a little unlucky and had a lot of smoke covering the mountains (as you can see in the pictures). But that being said, it was still mind-blowingly beautiful and Emerald Lake wore the haze well! We rented a canoe to take out on the lake. It was truly peaceful, so much so that Sally fell asleep about halfway into our canoeing. Personally, I think it's just because she didn't feel like paddling. 1-year-olds are so lazy!
After Emerald Lake we went on to Lake Louise. Lake Louise was the original lake that got me years ago when I came across photos of it. It was also featured in Sean's season of The Bachelor! (Note: my husband hates reality tv, but even he admits The Bachelor has some great vacation inspiration). It was a rainy day when we visited, so we did not attempt the fairly steep hike to the Lake Agnes Tea House. We opted for the lazier route of strolling Sally partway around the lake instead. Whenever I go back though, I'm making it to that tea house! After our walk, we stopped for lunch at the big, beautiful Fairmont Chateau Lake Louise which is right on the lake. There is also a small shopping center in the town of Lake Louise with a grocery store, coffee shop, etc. if you wanted to pick up something for a picnic. Later, we took a short walk down to Moraine Lake, which is not too far of a drive from Lake Louise. It was quiet and beautiful, but due to the rain we didn't last long. I did get to put my Hudson's Bay umbrella to use though!
For our final two nights on our trip we stayed in a charming cabin at the Storm Mountain Lodge not too far from Banff. These cabins were built in the 1920s and feel full of history. They are very cozy, each with a stone fireplace and a clawfoot tub.
We did a super pleasant (and easy for the stroller!) walk through Johnston Canyon. It's nice scenery that leads you to a beautiful waterfall. You can go through a short tunnel to get a closer look at the falls, but only do that depending on the wait time. There was quite a line when we got there, so we thought it must have been a super thrilling sight that we just had to see. Turns out, the tunnel view was fine, but definitely not worth the 45-minute wait. I preferred the view of the falls further away anyway.
We also checked out Cave and Basin National Historic Site, which is another great stop with kids. There is a cave with beautiful blue water. There is also a museum with various scenes set up to teach you about the cultural history of the area.
I haven't mentioned too much about the town of Banff itself. It's really great and we were staying close by where we could pop into town for dinner or to just walk around and explore various gift shops. There is a gondola ride you can take with stunning views. The day we took the gondola up the mountain it was pretty rainy so we didn't get to see much, but on a clear day, I'm sure it's absolutely worth it!
All in all, the Canadian Rockies are a stunning area to travel to and it's packed with such beauty. It was easy to get between the various national parks and there's no shortage of hikes and lakes to explore. It's a perfect place for families to visit, explore, and connect with nature!