Ahhhh….Hawaii. I never thought I would have made it there with a toddler, but I did, and it was great! With a whirlwind 4 day trip to Maui, we saw as much of the island as possible, and it was a perfect mix of adventure and relaxation!
First, why did we go all the way to Hawaii for four days? The short answer. We had a Bat Mitzvah to attend near San Francisco in mid-December and we always spend Christmas with my brother's family in Portland, OR. And one thing I definitely didn't want to do was fly coast-to-coast twice in two weeks with a toddler. As we desperately tried to figure out a way to make it work, Alan casually dropped, "maybe we can go to Hawaii in between?" Within 30 seconds I was on the computer looking up flights, and as luck would have it, it turns out flying to Hawaii in mid-December is actually INSANELY CHEAP (if you beat the Christmas/New Years rush). We were going to Hawaii!!!
After a few fun-filled days with Alan's family outside SF, we took an evening flight to Maui. As I often do after evening flights, I booked our first night in a hotel that was close to the airport and pretty cheap. Maui Beach Hotel fit the bill in both regards, plus, I'm a sucker for A-Frames and the outside looked darn cute. The hotel wasn't much on the inside, but it did the job. There was even a small beach behind the hotel where Sally got some play time in the sand before packing up for the Road to Hana.
Turo - The AirBnB for Cars!
I had never used Turo before, but had heard good things about "the airbnb for cars." We wanted to continue on the road past Hana and I had read that it wasn't totally paved, so I thought getting a more substantial car might be nice. Also, we had an extraordinary amount of luggage on this trip, so we booked a Subaru Crosstrek and it was perfect! It was a quick taxi ride from the hotel to pick it up at someone's house. The car definitely had a more comfy/lived in feel like you were driving your own car as opposed to a rental. Turo has all sorts of cars on the site too, so if you're looking for a specific car for a little less than a rental company, it's definitely worth checking out. (And no this isn't a paid sponsorship. I wish!)
The Road to Hana
The main thing you'll likely hear about when traveling to Maui is the Road to Hana. There is a reason for this. The drive itself is stunning with countless waterfalls right along the road, and even more opportunities to explore further from the car. With a toddler, we stuck to mostly easy spots to pull over. Many people drive the road to Hana and back in the same day. I would HIGHLY recommend spending at least 1 to 2 nights in Hana. We stayed one night, but I wish we had another day there. Many of the guidebooks recommend getting an early start to beat the rush of tourists doing the drive. I think because we were there the week before Christmas (as opposed to the week between Christmas and New Years) we were pretty lucky and things weren't too crowded, but each waterfall only has a handful of parking spots along the road so I can easily see how driving during the busy times could get frustrating.
Our first stop was in a town called Paia. It's quite cute and I'm sure it's full of shops worth checking out, but we had waterfalls to see! So instead of shopping, we stopped for a quick breakfast a little further up the road from the main part of town at Island Fresh Cafe. It was incredibly peaceful and tucked away with plenty of outdoor seating, a backyard garden, and even an adjoining yoga studio (if that's your thing). The food was fresh and tasty (although not huge portions), but the highlight was Alan ordering a coconut water that was, well, a whole coconut with a straw. A festive way to start off our first morning in Hawaii!
We skipped Twin Falls, which is often on the list of places you should stop. I heard from a couple of people that it's a popular stop because it's one of the first waterfalls, but there are plenty of better ones later down the road. Sally had just fallen asleep in the car too, so we kept on going. The first proper stop we did was detouring down to the Ke'anae Peninsula, just past Mile Marker 16. There, you'll find bright blue water crashing against dramatic black lava rock. You're not allowed to swim, but the peninsula provides a nice view and a sea breeze. It also has a smoothie stand, a picturesque old stone church from the 1850s, and public restrooms if you've gotta go!
Less than a mile past Ke'anae is Ching's Pond. From what I gathered, this spot is more for locals and apparently is popular with cliff jumpers (which I am not), but we did pull over to check out the swimming hole. Sally was still sleeping, so I climbed down a rocky path solo to see if it was worth waking her up. It's quite beautiful, but the water was chilly and the path would have been a bit too treacherous (although short), so instead I just took a couple of photos and we continued on.
Okay, okay. About now you're probably thinking, did they actually stop at any waterfalls? YES! As I mentioned, with a toddler, we mostly just pulled over and took pictures of the many many waterfalls from the side of the road, but we did actually get out of our car and checked out a few. One was Upper Waikani Falls (also called Three Bears) at Mile Marker 19. There isn't a lot of space to pull over, but if you can swing it, there are three little parallel falls happening that are pretty sweet to view! We also stopped at Hanawi Falls, near Mile Marker 24. At this point Sally was awake, so we all got out of the car and climbed down to the base of the falls. We dipped our feet in, took a few family photos, and "climbed" along the rough terrain back up to the car with the help of a rope handrail (it was a very short climb, uh, about 20 feet, but the rope handrail somehow made it feel extra adventurous).
At this point we were hungry, and as luck would have it, there is a great stop for just that — the Nahiku Marketplace. They have a gift shop with local goods, but most importantly, they have all sorts of different food stands that serve everything from pork and fish tacos to Thai food and smoothies.
Our final and favorite stop was Waianapanapa State Park. Waianapanapa State Park is stunning! The highlight is small cove featuring a perfect black sand beach. It was fairly crowded when we got there in the late afternoon but still magical. We hung at the beach for quite a bit and even went in the water. As we were leaving, we explored a a fun little cave that you can walk through at the foot of the beach steps. Overall, I would have loved to have spent more time exploring the park, but hey, I guess we'll just have to come back!
Hana
After the park, we checked into our airbnb in Hana which was a rustic, but super-cute one room bungalow. Rather than windows, the bungalow actually had screens all around for an open-air vibe which was truly amazing. We listened to the rain overnight beating down on the roof and in the morning the roosters sounded like waring native tribesmen. The accommodations may be too rustic for some (with a bathroom attached to the outside of the bungalow), and some people might not love that the owners house is a stone's throw away (although there are enough trees all around to still feel secluded) but we just loved that open-air energy and wished we could have stayed there another night!
As for restaurants in Hana, there were pretty much only two options that are open after 7:00pm. One is a fancy restaurant that is quite pricey, but probably has good food and lovely views at the Travaasa Hana Resort. The second is a more family-friendly restaurant called Hana Ranch. I was interested in checking out the former as the hotel itself looked cool from the pictures I saw, but with a toddler who has difficultly sitting through a meal, we opted for the Hana Ranch Restaurant instead. Based on the reviews I had seriously low expectations, but we actually had a great time! We sat outside on their nice patio and I had some good pesto pasta with chicken. 100% pleasant!
The best thing about staying in Hana overnight is having Hamoa Beach to yourself the next morning. It's right past the town of Hana and is a perfect nook of a beach with beautiful water and some shade to lay out your towel. We spent the morning here enjoying a little quality time in the ocean. The water was warm and the waves were very gentle, so it was just right for Sally. We had her in her trusty Puddle Jumper and she was just loving wading and even trying to body surf (with a little help from Daddy). Alas, our blissful beach morning came to an end and we packed up, rinsed off (the beach has a rinsing off shower which was nice before a day of driving), and headed back on the road.
Haleakala National Park
About 15 minutes down the road from Hana is the Haleakala National Park, which contains the Seven Sacred Pools and the Pipiwai Trail. As you enter the park's south entrance, there is a small visitor center where you can get oriented, but it's pretty straight forward to get to the trails and we had decided to do our best with Sally and go on not one, but two, hikes.
I had seen photos of the Bamboo Forest on the Pipiwai Trail that I really really really wanted to see, so we decided to head there first since that was a further hike than the pools. Online reviewers went on and on about how this is one of the best hikes in Hawaii, and I can see why. The scenery is perfectly varied with a few spectacular stops along the way, and the entire trail is nice and shaded which keeps things cool. It's a (slightly less than) 2 mile hike up to Waimoku Falls and then you turn back and hike back down. Admittedly, we didn't make it all the way to those falls as Alan had to carry Sally on his shoulders most of the way and my prize was the bamboo forest. The start of the hike is the steepest part, but you will be rewarded with a MASSIVE banyan tree. It's stunning and is just sitting there in the middle of the jungle waiting for people to come by and drop their jaws. Past the banyan tree you will come to the first impressive waterfall, Makahiku Falls. Sadly, it was more of a trickle than a waterfall when we were there, but I've seen other photos of it when it's really going and I can see why people go nuts for this waterfall. But I was focused on getting to that bamboo forest, so we continued on.
It's a fun entrance into the bamboo forest with a steel bridge and some beautiful falls and pools to your left. Then you enter… We hiked for a bit through the forest but Sally was tired (from all that sitting on Alan's shoulders), so Alan and Sally decided to hang in the bamboo while I trudged on. The forest gets more and more magical as you hike up through the bamboo, and eventually, you come to a boardwalk that is flanked by bamboo on both sides that creates a sort of bamboo tunnel, and let me just say, it was well worth the hike! Unfortunately, I had to turn around and get back to those two, but I don't think the Waimoku Falls is too far after that. Chalk it up to one more thing we'll have to do next time!
Back down by the visitors center, we took on hike number two that is an easy 0.6 mile loop to the Seven Sacred Pools. It's known by a few names, but the proper name is 'Ohe'o. It's basically a magical valley where a stream cuts through and creates cascading waterfalls and pools. Apparently the "Seven Sacred Pools" name was made up decades ago by a landowner trying to attract more tourists to the area, and, well, it worked! Strangely, there are even more than seven pools and they aren't particularly sacred, but they are pretty!
The Road Past Hana?
Most folks drive the 15 minutes past Hana to get to the Oheo Gulch (Seven Sacred Pools) at the national park and then turn around. I had read mixed reviews about continuing the drive past Hana. Due to some unpaved roads, the car rental companies insurance won't even cover you over there which makes it sound rather ominous. That, along with the blind curves on what are essentially one lane roads (in parts), keep many from this zone. Conversely, I had also read that it's 100% fine and a lovely drive, so hell, we decided to go for it!
It's true that parts are not paved, but even in those parts the road is so packed down with the gravel that we didn't have any trouble at all. The road does get windy and narrow, but if you are going slow and paying attention, I don't see why you wouldn't have a pleasant drive. (I did read one recommendation that said to avoid the drive at night because of wandering cows, but other than that you should be good.)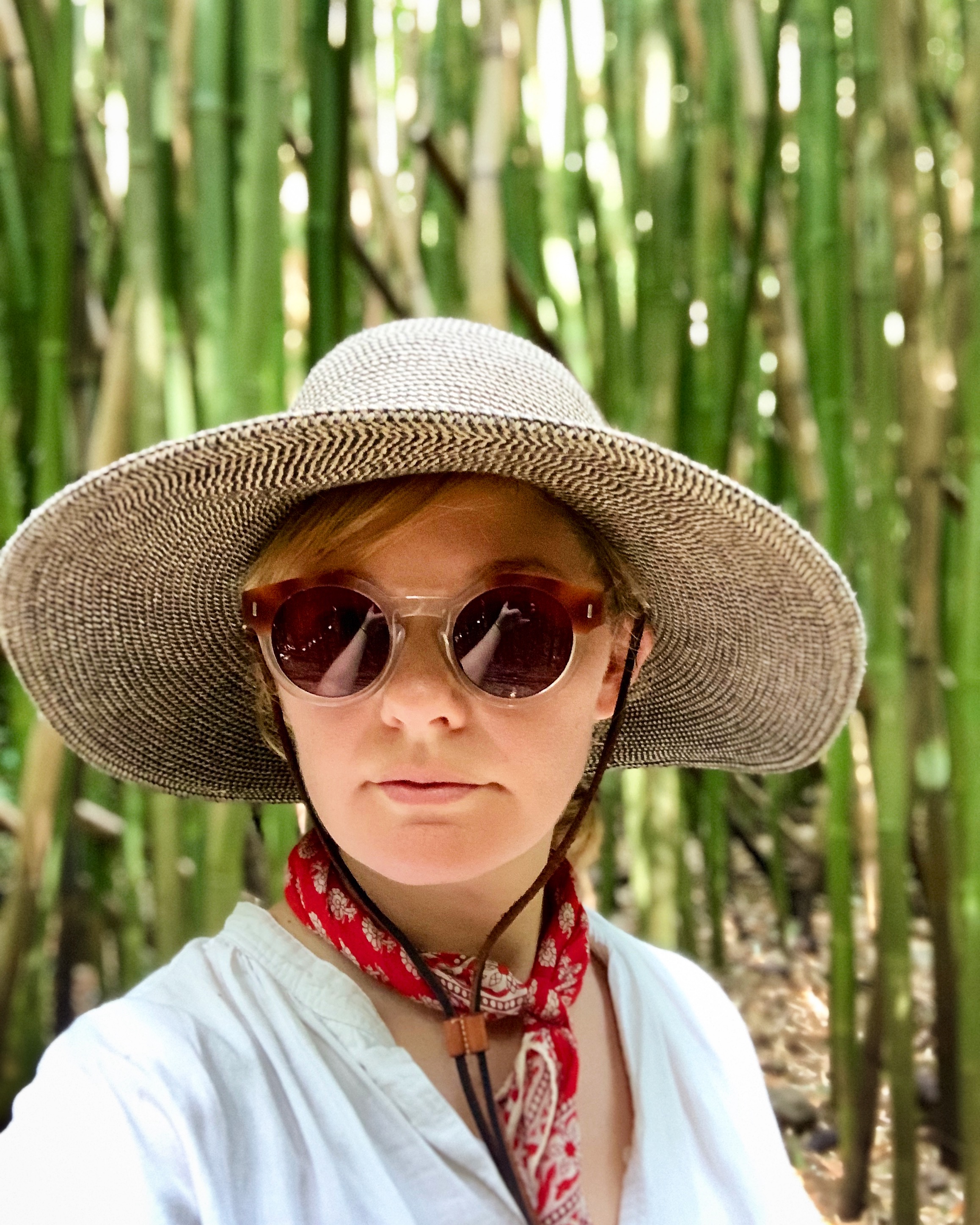 We continued around the bottom of Maui and then up through the middle of the island towards the north entrance of the National Park and to our hotel for the night, the Kula Lodge. But when we got there, we found that I had made the error of all errors — I had accidentally booked the wrong night at the hotel! I booked the following night instead! (Even I make big mistakes… don't tell Alan) Luckily, the hotel had the same room available and after talking to a manager they agreed to move our reservation. But damn, that could have been baaaaaaad. So, uh… here's a travel tip. Book the right day and check your reservations!
Anyway, the Kula Lodge is a funny place that felt very much lost in time (a favorite feeling). It's built on the slopes of Haleakala and offers incredible views from the restaurant (and the rooms). The restaurant has a cozy stone fireplace (which may sound strange, but it was chilly up there!) and basically floor-to-ceiling windows with breathtaking sunset views. (I was too excited about it to remember to take any photos, unfortunately.) There is a terrace zone at the restaurant where you can sit outside and watch the sunset and eat brick oven pizza. I really wish I could say that the food was great, but it wasn't. Quite honestly though, the views and the kitschiness of the place still make it a stop I'd highly recommend if you are in the area. Our room was equally as fun and felt very 1970s (again, in a good way!). It was two stories with one bed downstairs, a heater that looks like a fireplace, and a balcony. There is also an upstairs loft that had two twin beds which Sally had a fun time playing on. In the morning there was a beautiful rainbow that greeted us from our balcony and basically hung around with us all day!
On our way back to the National Park, we wanted to grab some breakfast (and didn't need another meal at Kula Lodge) and I found the perfect casual French bakery and cafe called La Provence. We were able to get good coffees and various quiches to go. Thus far, I hadn't had the tastiest meals in Hawaii, but this was really, really good!
Haleakala Crater
The Haleakala National Park has multiple entrances. The southern entrance is where we went on the hikes to the bamboo forest and Seven Sacred Falls. On the north side of the park is another entrance near the Haleakala Crater (you only need to pay the fee for the park once, so keep that ticket stub!).
Much of what I read about the summit of Haleakala is about the sunrise. Apparently, it's a huge thing there and you even need reservations in order to enter the park at that hour because it's so popular. Getting up that early and dealing with the crowds didn't sound that fun to us, so we skipped the sunrise, but apparently some people really find this to be a spiritual experience. So, maybe this is the best way to experience the park? Up to you! We went around 10:00am and it wasn't very crowded at all, which was nice. That being said, it was entirely socked in with clouds when we got there. It's a long drive up to the top (with that pesky rainbow still following us!), so it's common to drive through clouds and then it clears up, which it eventually did when we were up there. While we couldn't see down into the crater due to the clouds, we were high above the clouds, which was in itself pretty neat.
Pictures I've seen of the crater and hiking through it look like Mars! It looks insane! But with Sally, we skipped the 11 mile Keonehe'ehe'e hike (aka Sliding Sands). If you don't have a kid to carry around or are in great shape, I'm sure this would be a hike to remember. We, however, don't fall into either of those categories, so instead we did the half mile hike, Pā Ka'oao, which is next to the visitors center at the summit. There are also a couple of overlooks and shorter trails, but they are at a lower elevation and had no visibility when we were there.
After our short hike, we continued our drive up past the visitors center and parked by the summit building. Here, you can walk around and check out the highest views. You can see the Haleakala Observatory from here. We couldn't see much of the crater, just the white clouds below us, but I'm sure on a clear day it would really knock your socks off! (At least we still had that rainbow hanging around!)
Honua Kai
Planning our four day, five night whirlwind Maui tour, I packed the first half with adventures and the final few days at a comfy resort with multiple swimming pools, because, hey, that's how we roll. We stayed at Honua Kai Resort which fit the bill perfectly. The resort had three different pool zones that included a waterslide, a waterfall, a shallow pool for littles, and (most importantly) five hot tubs! The room offered an equal number of comfort factors including a washer/dryer, a balcony (construction views which was cheaper, but at least the construction site had a rainbow over it!), and a full kitchen. The resort is on the beach, but we just walked down there for the sunset and mainly hung by the pools. They had a nice cafe where I got breakfast wraps, smoothies, and coffees in the morning. It's a great place for families, and while being a little generic and not our usual type of accommodation, it was comfy and Sally had a blast! Honua Kai is an easy 10 minute drive to Lahaina, which is apparently a great town to walk around. If we had more time in Hawaii, we would have checked that out more (I heard they have a huge banyan tree).
And last but not least, we couldn't leave Hawaii without going to a LUAU! On our last night we went to the Royal Lahaina Luau. As far as luaus go (this was my second) I wasn't blown away, but it did have all the basics — unlimited cocktails, a roasted pig, hula, and a fire twirler. The food was meh (although Sally really loved it!), and the drinks were watered down but plentiful! The dancing captured Sally's attention the whole time and the fire guy was particularly exciting for her to watch. They do a bit where all the kids can get on stage and learn the luau. Sally and Alan went for it. As kids do, Sally suddenly got super shy and just stood there watching, but it turns out Alan is pretty good at following hula instruction. The luau was right next to the beach too and we got a lovely sunset for our last night in Hawaii!
Overal, our trip was excellent and if you can, go to Maui! It's a perfect mix of adventure and relaxation! Aloha!