Hudson is one of our favorite places to travel upstate. Sure we have our favorite spots, but this last minute weekend trip had the ideal mix of old favorites and some fun new surprises (namely the Hudson-Athens Lighthouse and one of my favorite new discoveries, the outdoor sculpture park, Art Omi)!
Hudson-Athens Lighthouse
The initial impetus of our trip was to check out the Hudson-Athens Lighthouse, which is right smack in the middle of the Hudson River between Hudson and, you guessed it, Athens. The lighthouse was constructed in the 1870s to help ships navigate the middle ground flats and was manned until 1950. The tour includes a quick boat ride over to the lighthouse (and back) and a self-guided tour of the interior and exterior which includes living quarters, a few videos of the lighthouse's history, and a huge bell (which the little ones can take a giant plastic mallet to and let loose all their pent up toddler aggression). There was intermittent rain on our visit, which ended up presenting us with a beautiful rainbow over the Hudson! Sally is super into rainbows these days, so this was a real dazzling treat for her and me (although I can't guarantee that the rainbow will still be there). This is a fun activity if you are into lighthouses, boat rides, or just looking for something to do in Hudson if you are tired of antique shopping.
After our lighthouse tour we drove across the river to our tried-and-true favorite motor lodge, Carl's Rip Van Winkle. (I've posted about this magical place before but if you still haven't stayed there, read up and then go!) They close up for the winter though, so we were happy to get one final weekend with some peak leaves showin' off those charming cabins! Out fav for breakfast/lunch is Gracie's Lunchonette. We love love love it. It's literally a one-minute drive from Rip Van Winks so we went there both days for brunch (we probably would have went there for dinner too if we weren't too embarrassed to show up there four times within 48 hours). The food is amazing, the service is great, the views of the river are just beautiful (not unlike the clientele that always make for good people watching).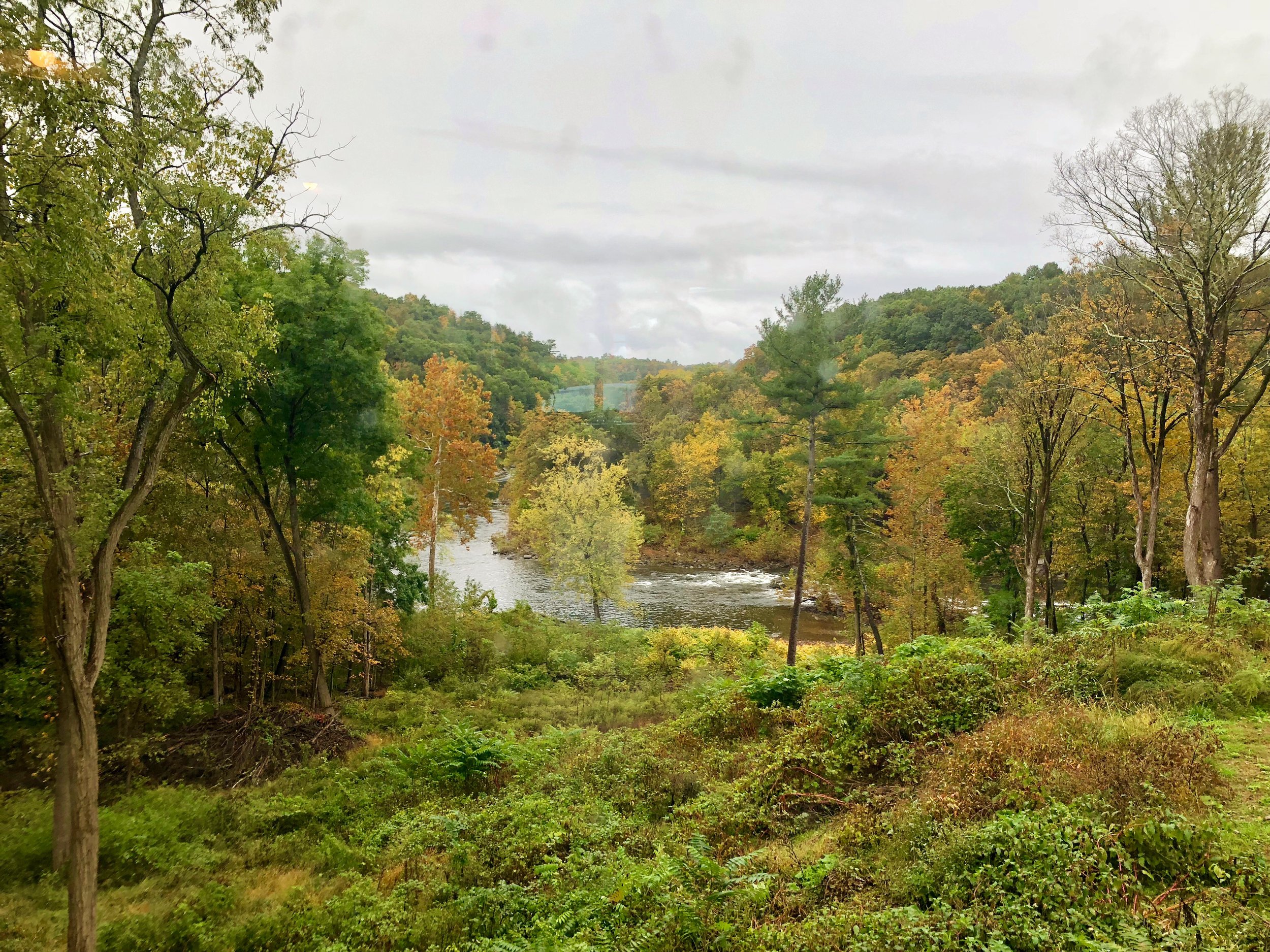 Art Omi
Trying to get Sally to take a nap generally involves us piling in the car and driving around for an hour or two (which is partly why we take so many damn road trips!). So on our way back from Hudson we took some small, windy roads figuring we would peep some leaves and it would let Sally snooze. Well, you know what they say about the road less travelled. As we were driving, out of nowhere, we came across a GIANT 50-FOOT DEER! Okay, so the deer was a sculpture, but still! We immediately pulled over to see what was going on, and boy were we happy that we did! How I have not heard of this before still has me completely befuddled. Art Omi is basically a free, quieter, and more relaxing Storm King! It's a non-profit residency program for international visual artists, writers, musicians + dancers and home to The Fields Sculpture Park. The fields are huge and everywhere you walk you stumble across very impressive interactive art pieces. There are pieces tucked into little trails in the woods and a habitable sculpture up on a hill that you can spin 360 degrees (if you can reach it). Sally particularly enjoyed a glass house on a pond that welcomes you inside with a bed and chairs overlooking the water.
Overall, the park was amazing and the art changes frequently, so we'll definitely be back! (I heard that in the winter you can even cross country ski there!) It's a 15-20 minute drive from Hudson and I would consider it a must see if you are up that way!